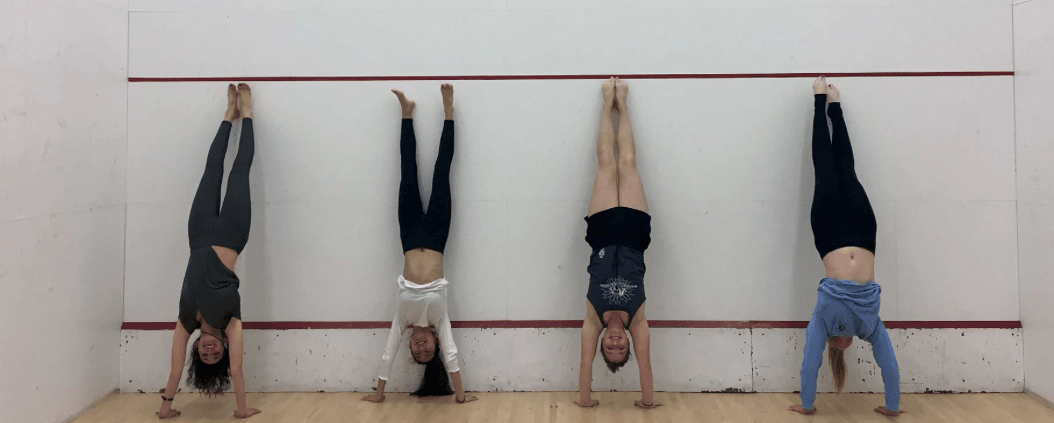 Yoga and Yogis: You've Gotta Check it Out
In a place like Los Angeles, we hear about yoga almost everywhere we go: celebrities use it to stay fit, just about every other person walking next to you has a yoga mat slung over their shoulder, and Lululemon products are popping up all over the place — but, what exactly is yoga? A quick scan through Google can give you the textbook definition, somewhere along the lines of "Yoga: a Hindu philosophy that teaches a person to experience inner peace by controlling the body and mind." Whenever you pass someone holding a bright, neatly rolled, cylinder-like object on their back or arm, feel free to think of them as a "Yogi: a person who practices yoga." That's just a bit of lingo to keep you sounding hip.
As a passionate, backbending yogi myself, I have a deep interest in the practice and what it can do for mental health and for the body. If you're already interested, there are plenty of opportunities to get involved with yoga on or close to campus, like UCLA Recreation Center, CorePower (which offers a free class every Saturday), and Flexible Fridays (which holds free yoga classes on the hill for UCLA students). Yoga for Flexible Futures (YFF), a nonprofit organization here on campus that teaches yoga and nutrition to elementary school children at the UCLA Community School, has recently begun holding yoga classes/workshops, open to everyone, every Thursday from 7-8pm in Squash Court A at the John Wooden Center. Some of the workshops so far, taught by YFF club members, many of whom are certified yoga instructors, have been on acro-yoga, inversions, and vinyasas. If any of these catch your interest, please email yogaforflexiblefutures@gmail.com with any questions or requests. I sat down with two of their yogi members to find out more about their experiences with yoga, the effects it has had on their lives, and why the practice has become so popular.
Meet the Yogis
Ailey Word Simpson is a charismatic fourth year student, with a love of architecture and mathematics. She's an adult-certified yoga instructor who has had a passion for handstands since she began her practice six years ago. She also has a secret talent of being able to touch her elbow to her toes (I have seen it happen with my own eyes!) and baking cakes on the weekends. Katie Salow is also a fourth year student and long time member of the club. Her interests are Psychobiology and Global Health on the school front, and triangle pose and headstands on the mat. She enjoys eating cookie dough ice cream, pottery, and looking at corgis dressed in costumes (though, not all at the same time).
Questions and Thoughts
Q: Tell me a little bit about YFF from your point of view. What does it mean to you?
Katie: Our organization makes health and mindfulness fun and accessible to kids that wouldn't normally be exposed to the practice. Yoga serves as more than exercise, and helps the kids become more confident and comfortable with themselves while learning new and cool "tricks," as they call them. (You guys can all see their smiling faces in the adorable pictures below)
Q: Why do you think it's important for kids to take part in the practice of yoga and have knowledge of nutrition?
Katie: Yoga enhances Physical strength and flexibility, and encourages more novel uses of a variety of muscle groups. Not only is it physically beneficial, but it helps build focus and concentration, traits that are incredibly applicable to all aspects of development.
Ailey: Getting kids excited about living healthier and more mindfully at a young age will, hopefully, allow them to develop ways to carry that positive lifestyle along with them as they grow. We try to make the lessons applicable to their everyday lives, so that they can carry what they learned off the mat.
Q: Why did you start practicing yoga?
Ailey: I grew up dancing ballet, and I first started practicing yoga as a supplement to dance training. I started practicing consistently years later, and have developed an appreciation for all of the benefits that yoga can have, aside from strength and flexibility.
Q: Have you experienced any changes in your life because of the practice, like less stress, a calmer mind, or just an overall more positive way of living?
Katie: Absolutely. Yoga is a great workout, but the practice teaches you to focus and let go of negative thoughts that aren't adding to your quality of life. It is a moving meditation that helps ground your thoughts and creates balance in all aspects of life.
Ailey: Having a consistent yoga practice has definitely changed how I approach my day-to-day life. At this point in my yoga journey, I am more comfortable with my body and have learned to practice better self care physically and mentally.
Q: What would you tell someone who was thinking about getting into yoga, but was worried that they weren't flexible enough to participate in the practice?
Katie: Lesson plans for classes are geared towards valuing the variety of everyone's bodies: whether you're more flexible, strong, energetic, or still. (There's many different aspects of the practice, it's not all about being able to twist into a pretzel shape.)
Ailey: No one is good or bad at yoga, and there is no one way that each pose should look! Embrace your current level of flexibility and strive to find the variation of each pose that feels right in your body, rather than the extreme instagram version. (We all know what she's talking about!) Yoga is all about how you feel, not how you look.
Yoga is a beautiful practice that will allow you to work on silencing your mind, exploring the abilities of your body, and, ultimately, find balance (literally and figuratively here, people.) It's for everyone, and every age, and it's because of the diversity it holds within itself that so many people are drawn to it. Try out some of the local yoga options mentioned above, or try finding others that may appeal more to what you are looking for out of the practice, or maybe, just maybe, these yogis and I will see you on Thursdays in Wooden.
Aubrey Freitas is an undergraduate student at UCLA double majoring in English Literature and Psychology with a minor in Italian. She is a blogger for the UCLA Healthy Campus Initiative in the Mind Well section, which focuses on the importance of mindfulness and mental health. Aubrey is the founder of the organization Warm Hearts to Warm Hands, which teaches the skill of knitting to people of the community in return for their donation of an article of clothing they create with the skill, to be given to local homeless shelters.
https://movewell.healthy.ucla.edu/wp-content/uploads/sites/4/2017/04/screen-shot-2017-04-06-at-9-40-14-am-e1491852130272.png
468
1054
webteam
https://movewell.healthy.ucla.edu/wp-content/uploads/sites/4/2020/10/MoveWell-white-background-860x860.png
webteam
2017-03-07 11:01:19
2017-03-07 11:01:19
Yoga and Yogis: You've Gotta Check it Out